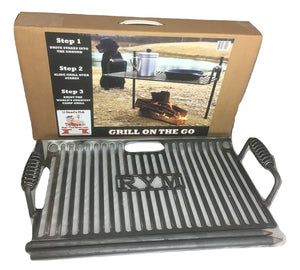 FREE SHIPPING IN THE U.S.
The Grill on the Go sold by R.Y.M Products.  Unlike most products one might see in a "big box" retail outlet, the R.Y.M. grill on the go is hand crafted and constructed with heavy steel.  This grill construction should last a lifetime. The Grill on the Go is the perfect camping companion.  The grill plate weighs just under 20 pounds and is just over 23 inches long. The Grill plate is designed to retain heat. The grill is held in place, on the stakes, by leverage.
The box is designed to stow the grill when not in use.  The box also contains the everyday grease and grime from cooking.
Hammer or drive the stakes in the ground and slide the grill in place.   The grill can be raised and lowered to meet the desired cooking temperature relative to the heat source.  The Grill on the Go comes out of the ground as easily as it goes in the ground.  
The Grill on the Go is the perfect way to cook food in the great outdoors.