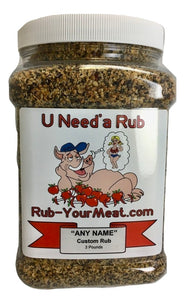 Custom Gift for your Grill Master
Let us create a custom blend with your Grill Masters name or Your Company name up to 14 characters featured such as "Their Name" Meat Rub".
The Grill Master will love this one of a kind gift that cant be purchased in stores.  The gift includes three pounds of a custom rub with two shakers labeled with their custom name. The rub sent is a all purpose rub for various meats such as Beef, Pork or Chicken.   
$49.95 (includes shipping in the U.S.)